By Bobbie Margo
What takes 53 pieces of furniture, 40 gallons of paint, 50 square feet of pavers and more fun than can be calculated?  Outreach To Teach 2014!
NEA's annual community service celebration began 19 years ago with the mission: "to ensure every child's basic right to a great public school by providing an environment that is conducive to learning."  This year 400+ NEA members-current, future, and retired teachers, higher education faculty and ESP-put in a full (starting at 6:00 a.m.) day-June 30-and lots of sweat and smiles to spruce up not one but two of Denver's Public Schools!
Denver's Math and Science Leadership Academy (MSLA) and nearby Valverde Elementary School each received a facelift.  Both schools have nearly 95% of their students eligible for free/reduced lunch, and 70% of MSLA are English Language Learners.  MSLA is also unique because it is a "teacher-led" school (no-o-o administrators) with the motto-"Everyone in this school is a learner, a teacher, and a leader."  Both schools offered their students a leadership opportunity to decide what projects would be tackled.  Projects included sprucing up bathrooms, cleaning, cleaning, and more cleaning, bulletin boards, building raised beds for vegetable gardens, library/teachers lounge makeovers.
Your Education Minnesota Retired delegates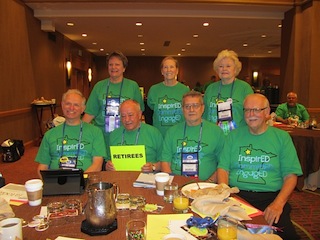 were ready and willing to tackle the challenge in their red (the color this year) "Outreach" T-shirts.  Three of us had prior commitments, (meetings L) but the remaining four ED MN retirees stepped up to the task at hand.  Julie and Charles worked in the library (so dear to my media specialist's heart), Judy worked on bulletin boards, and Larry worked in the gym preparing supplies for a multitude of projects.
As the day wore on, it became apparent that no air-conditioning in either school was taking its toll; even with no humidity, the temp was around 90 above.  No matter, the sweat didn't dampen one's enthusiasm.  "Outreach" gets the message out to the community that the NEA is about a lot more than just wages and benefits.  It is living proof that we all really want the best learning climate for each and every child.  On July 1, the Math and Science Leadership Academy held an open house for the community, staff, and students to view the finished results.  Had I been there, I know I would have seen smiles all around in appreciation of a job well done!