By Bobbie Margo
This year's 31st NEA Retired Annual Meeting was held at the Embassy Suites in Denver, Colorado (no humidity!) from June 28-29.  The theme for this year's meeting was "We Educate America-The Commitment Continues."  Participants  (300+) opened the meeting by singing the National Anthem-led by our own Charles Hellie.  Bob Barzdukas, Chair of  Colorado Education Association –Retired extended greetings and reminded us that we would qualify for "senior rates" on all Denver Public transportation.
The first main speaker of the day was NEA Vice-President Lily Eskelsen Garcia.  Garcia spoke of being able to sustain our U.S. immigration system.  The undocumented immigrants in our country need to be brought into a FIXED/CHANGED immigration system so that these people can become part of the system-to support it-to sustain it-to maintain it.  Think Moses holding the Ten Commandments, now think Moses holding an iPad.  Changes need to be made!  The next speaker was NEA Secretary-Treasurer Becky Pringle.  Pringle stressed that we, as an organization, must pay attention to our fiscal health.  Even though active NEA membership has once again declined, the drop has been slowed, and we are standing strong.  NEA Retired membership was the only group that showed an increase.  This year we have increased by 5,857 members, making our total retirees number nearly 300,000 strong! (way to go retirees!)
The day's keynote speaker was NEA Executive Director John Stocks.  He reminded retirees that every day the risk to PELRA grows.  This involves a risk to good wages, decent health care and favorable working conditions.  The middle class is not only in jeopardy, but it also is shrinking altogether.  We as, union advocates, must continue to advocate, to unite, to prepare to succeed.  At stake is social security, public pension plans, personal savings.
On the second and the final day of our retired meetings, business was conducted.  Two $2,000 scholarships from the Jack Kinnamon (Cat in the Hat) Fund were presented.  Ten new business items were discussed and voted upon.  To date, NEA Retirees have raised $34,500+ for the NEA Fund for Children and Public Education.
The day's final speaker was Mary Kusler, Director, NEA Government Relations.  Kusler spoke of the 114th Congressional approval ratings.  These approval ratings are the lowest that they have ever been!  In fact, (and this is really what MS. Kusler said) colonoscopies rated higher than the 114th Congress!  Every time we re-district, odds are stacked against the Democrats to regain control of the House.  Fast Fact: we can't continue to cut taxes and to cut programs, our infrastructure will crumble.
As an aside, I again ran to be elected for a spot to represent NEA Retired on the NEA Resolutions Committee.  I was thrilled to be one of six elected for the 2015 term.  I am proud to be able to represent ED MN Retired in this capacity.
The NEA Retired Annual Meeting adjourned on Sunday, June 29.  All of the ED MN Retirees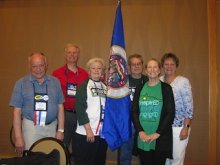 packed up their suitcases, and we switched hotels to join our Education Minnesota State Delegation in order to attend the 93
rd
Annual Representative Assembly-the 152
nd
Annual Meeting.  Our hotel was the Sheraton Downtown Denver.  Once again our hotel location was
wonderful!
  We were approximately 5-6 blocks from the Convention Center.  So we could walk (in no humidity) to the convention center, or a shuttle bus was available if we wanted. (some days were 90-95 degrees)