Submitted by Bobbie Margo
This year's 35th NEA Retired Annual Meeting was held at the St. Paul Intercontinental Hotel in downtown St. Paul, MN from June 26-28, 2018.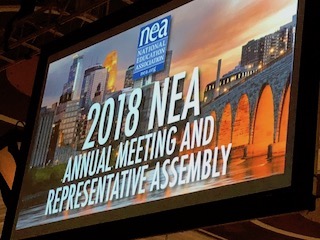 St. Paul is the capital of Minnesota.  Minnesota is famous for its beautiful lakes, the Mall of America and yummy mini donuts sold at fairs and celebrations.  
The meeting of 319+ registered delegates was called to order by President Sarah Borgman (IN).  Our own Retired President Julie Jagusch extended "Welcome Greetings."  Jagusch described MN's two seasons-winter and road construction.  But she also provided information on the many opportunities to do and to see things in MN.  However she cautioned when she spoke about the raccoon who made national news a few weeks earlier-when the animal scaled an office building in downtown St. Paul.  The raccoon is not able to be viewed because it was captured and then released at an "undisclosed location."  Jacusch said the speculation is that the animal could be part of a "witness protection program."  ED MN President Denise Specht also spoke and conveyed greetings.
Sarah Borgman then gave the "President's Address."  She explained that "arms" are for hugging, we need our schools to be free from gunfire.  Educators need to be "armed" with paper, books, computers, pencils, pens.  When we bury our young, we bury our future.  We are one, we are united, we are America!!!!  
Business matters were conducted with much discussion centered around proposed new business items and around elections for several positions in NEA-R organization.  Judy Rohde was re-elected to a fourth term representing NEA-R on the NEA Resolutions Committee. (way to go Judy!)  We (the NEA-R organization) also had a birthday party.  As an organization, we are 35 years old!  The party included cake and yummy treats.  NEA-R was created in 1983-by the work of 49 educators who met in Philadelphia.  We have become an organization of 318,000+ educators and ESP members.  We boast 35 years of success, sacrifice, satisfaction and service.
On June 28, we had 2 very important presentations:  Mary Kusler (Director of NEA's Center for Advocacy) and Alice O'Brien (NEA General Counsel).  Kusler spoke of the recent Janus Court Case Decision (5-4) and the retirement announcement by Justice Kennedy. (he is 81, will retire at the end of July and was often a "swing vote")  The Janus decision does not signal defeat, it signals the beginning of an engaged, fired-up membership.  The decision is NOT a stumbling block, it is a stepping stone.  In other matters, Kusler also noted that Social Security will be fully funded for the next 16 years.  Medicare with its 60 million beneficiaries is not at an end, it is going into its next chapter.  NEA is an organization with a soul.  One out of every 100 Americans is an NEA member.  A final word of caution, "those who feel that they are too good or too smart to be involved in politics will be led by those who are neither good nor smart."  
General Counsel O'Brien spoke of the Janus Decision in a bit more detail.  The Decision states that unions cannot collect a fair share fee.  ALL agency fees are deemed unconstitutional.  Janus is a fee payer issue-not a membership issue!  The Supreme Court concluded "that the present law (Abood vs Detroit Board of ED) violates free speech rights of members compelling them to subsidize private matters of substantial public concern."  WHAT??  O'Brien continued by saying that the Court read into the First Amendment-a national right-to-work-law.  Yet, right-to-work is really not a constitutional issue.  The Court ignored the views of individual states, legislators, civil rights groups, unions, economists, scholars.
On a positive note, the Jack Kinnamon (Cat in the Hat) Scholarship Fund was able to award 3 scholarships this year of $2,500 each!!!  NICE!!!
The NEA-R meeting adjourned on June 28.  We packed up our stuff (in our own cars-so exciting!!) and moved to the Loews Hotel in Minneapolis.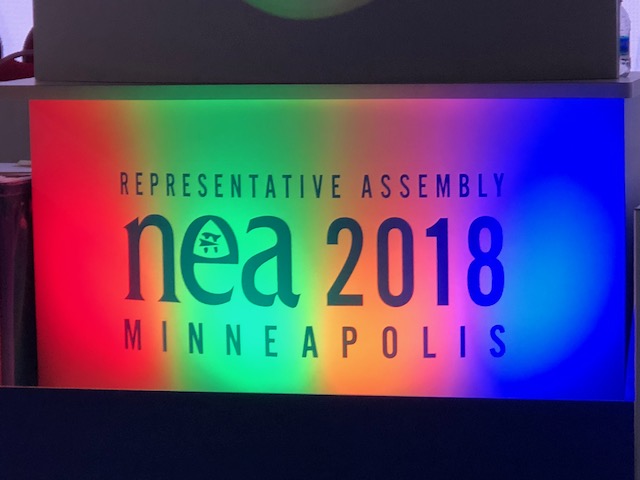 The first day of the RA featured a unique "blessing" and a special color guard ceremony.  Each of five Native individuals-in their own language-welcomed the delegates.  Dorene Day (from St. Paul) distributed tobacco branches to the NEA Executive members and officers on stage.  These branches were grown from a "Mother Plant" of 600+ years.  Following this blessing the delegates welcomed David Hogg-from Marjorie Stone High School in Florida.  Hogg, wise beyond his years, stated that our students are marching in the dark for their lives.  Already the current administration seems to have been in power in dog years.  Hogg stated that students are ready, willing, able to be the voice of change!!  Another special guest was Randi Weingarten-AFT President.  Weingarten reminded us that billionaires in politics are now on the scene.  These billionaires want to provide the least for the children who need it the most and the most for the children who need it the least.
The following days included speeches from the Friend of Education (Ted Dintersmith, Education Philanthropist/Author), The Teacher of the Year (Mandy Manning, English/Math, WA), the ESP of the Year (Sherry Shaw, AK), and the Higher Educator of the Year (Loretta Ragsdell, IL).  In the order of elections and business, delegates elected 3 individuals to the NEA Executive Committee, along with 2 ESP at-large candidates to the NEA Board of Directors.  Discussion on the floor involved 5 constitutional amendments, 6 standing rule amendments, 7 legislative amendments, 13 amendments to policy statements, 17 amendments to resolutions, and 129 new business items-YIKES-this involved a LOT of sitting!!  There were 6,016 registered delegates, the cost to implement new business items (and still counting) is $163,765.00.  The 2019 RA will be July 2-7 at the George R. Brown Convention Center in Houston, Texas.
A HUGE THANK-YOU to this year's Host Committee.  Ten out of eleven committee chairs were ED MN-Retirees!  (way to go retirees!)  On behalf of Charles Hellie, Julie Jagusch, Larry Koenck, Diane Larson, Walt Munsterman, Judy Rohde, Wes Tessman and myself, we sincerely thank YOU-the members of ED MN Retired for giving us the opportunity to represent our state and our retired organizations.  We represented you with pride and with professionalism.