2013 NEA Outreach To Teach
by Bobbie Margo
This year in Atlanta, "Outreach To Teach" returned to its roots.  The program began in 1996 as a beautification project to give back to schools.  What started with a few students wanting to clean up a local school where their annual Student Leadership Conference was being held has grown into a full blown remodeling project with hundreds of volunteers.  This year's school was Thomasville Heights Elementary School in Atlanta, GA.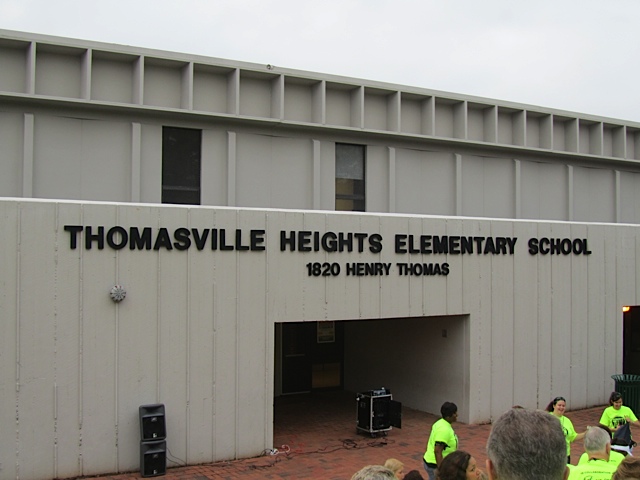 One hundred percent of the students at Thomasville Elementary School receive free or reduced lunch.  However "free and reduced is how the students eat not how they learn."
2013 marks the 17th year in which NEA volunteers have devoted their time and their energy into completely "making over a school."  This year Arlyce Anderson, Larry Koenck, Diane Larson, Walt Munsterman, Judy Rohde and myself participated along with 10+ student members from Minnesota and their advisor Tammy Barnes.  The NEA retired members walked (1 ½ blocks) at 6:00 a.m. -I think it was still sort of DARK out :( - to the student hotel for breakfast. (with lots of coffee) and then we were all bused (a ½ hour ride) to the school.  The T-Shirt color this year was chartreuse.  Webster's Dictionary says this color is "a strong to brilliant greenish yellow to a moderate or strong yellow green." (what?) No matter-we were 400+ strong, and we were visible day or night-for miles!  The main idea with this school make-over thing is to grab hammers, shovels, paint brushes, scissors, mops, tools, pins, elbow grease-whatever works-and amid the chaos/organization the school gets to looking pretty spiffy!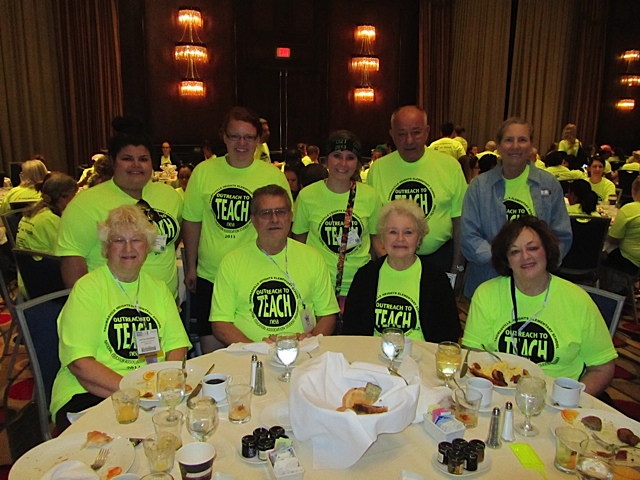 Participants sign up ahead of time for projects in the area(s) in which they would like to work.  Walt worked on bulletin boards, Diane and Arlyce worked in the Parent Center doing books and furniture, Judy worked as a Teacher's Assistant, Larry worked in the gym, and I (you guessed it!) put together furniture in the Teacher's Lounge.  I put together a cabinet with sliding glass doors.  The doors kept slipping out of their tracks and falling on the floor-not good for glass doors! But I got it done! Funding for this year's "Outreach" program was provided by the Atlanta Public Schools, the Atlanta and the Georgia Association of Educators, NEA Retired, (of which ED MN Retired is a member) Higher Education, the Student Program, Education Support Professionals, Lysol, and NEA Member Benefits.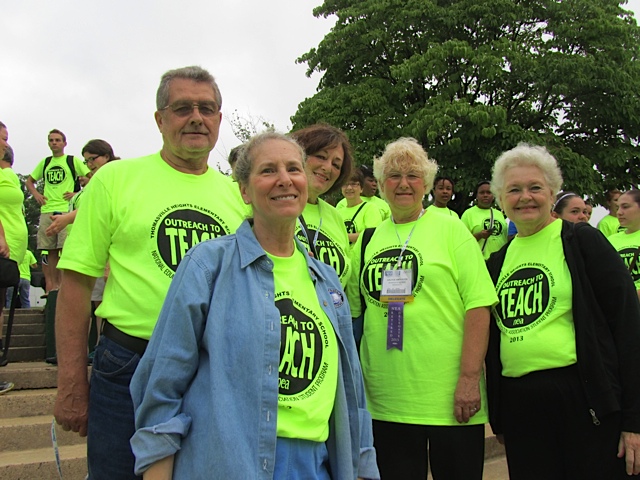 The big project this year was a map of the United States.  The map was about 1/3 the size of a football field and was on a part of the playground area that was covered with a roof.  The States were marked with a professionally purchased stencil pattern and were then painted red, yellow, green, and brown.  The color blue filled in the Great Lakes area.  The design and the painting were downright impressive!
"Outreach To Teach" is all about giving back to the community and about providing an opportunity for future and for retired educators to learn from each other.  As retired educators, we knew that we had been working with future educators to make education a better place for the students who will be our citizens of tomorrow.  And besides that, it was a lot of fun and not too sweaty either-the school was air conditioned!
Check out the "Outreach To Teach" video at UTube-then search "Outreach To Teach".  Along with other years of "Outreach" videos, "Outreach To Teach 2013" should pop up.  We are all there in our chartreuse T-Shirts !