Retired WBL Teacher on a MIssion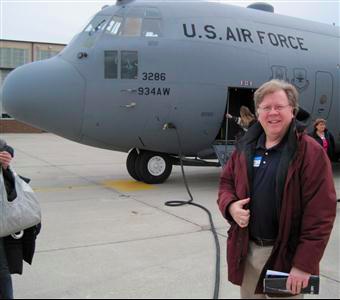 Retired WBL teacher Jerry Ratliff flew on an Air Force Reserve Hercules plane for Educators day on
April 13th. The flight included being in the cockpit as the plane flew up the North Shore towards
Canada. Watching the ramp door open over Split Rock LIghthouse was spectacular. This ramp is used
for supply drops and yet the plane is also used to transport injured a nd deceased soldiers during war.
The flight was exciting, but very loud even when using earplugs. Mr. Ratliff retired from WBL schools
in 2006 and has been busy in various part time jobs along with regularly volunteering for three
organizations. He was a Volunteer of the Year in the city of St Paul in 2005 for his community work. He
highly recommends others to experience first-hand this unusual opportunity.
NEWS RELEASE
U.S. Air Force Reserve
934th AIRLIFT WING OFFICE OF PUBLIC AFFAIRS (AIR FORCE RESERVE
COMMAND)
760 Military Highway, Minneapolis-St. Paul International Airport Air Reserve Station, MN
55450-2100
Telephone: (612) 713-1217 Fax: (612) 713-1229 DSN Prefix: 783
Website: www.minnapolis.afrc.af.mil e-mail: 934aw.pa@us.af.mil
Release No. 041001
Date: 14 April 2011
For immediate release
934th Airlift Wing hosts Educator's Day
MINNEAPOLIS-ST. PAUL INTERNATIONAL AIRPORT AIR RESERVE STATION MINN.—The
934th Airlift Wing hosted 40 administrators, teachers and counselors from various primary and
secondary schools throughout the Twin Cities April 13 for its annual Educator's Day.
Key educators ate breakfast with the men and women of the 934th Airlift Wing then took a two and
one-half hour orientation flight onboard a U.S. Air Force C-130 Hercules aircraft during a routine
training mission.
This year's Educators Day was the largest event with double the attendees from last year. The morning
gave educators the chance to experience an Air Force Reserve mission first hand.
For more information contact the 934th Airlift Wing Public Affairs Office at
(612) 713-1217.