BY BOBBIE MARGO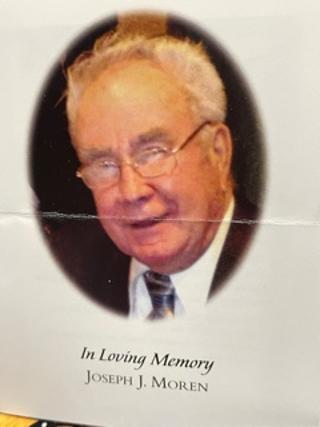 Joseph Moren, age 91, of Hibbing passed away Thursday, November 11, 2021 at Bayshore Residence in Duluth, MN.  Joe was born on October 2, 1930 to Joseph and Angela (Pedric) Moren in Gilbert.  Joe was raised in Gilbert and graduated from the Gilbert High School in 1948.  He attended Virginia/Eveleth Junior College, but before graduating, he was drafted into the Army during the Korean War and served in the Military Police in Bremerhaven, Germany.
After being discharged, Joe finished college at UMD, and then married Jean Kemp.  After several teaching positions in Wisconsin, Joe finally settled in Hibbing, MN where he taught World History and Social Studies for 35 years.
To say that Joe was involved in many education and union activities is an understatement.  Some of his numerous organizational involvements include:  Hibbing Federation of Teachers, Hibbing Education Association, MEA, Education Minnesota, and he was a Charter Member of the MN Board of Teaching.  He was also extremely active in the DFL Party and in the 5th Senate District.  The pinnacle of Joe's political career was serving in the ELECTORAL COLLEGE representing the 8th Congressional District in 2012!
In retirement, Joe continued to be involved/extremely busy in a multitude of organizations including, but not limited to:  AARP, MN Senior Federation, IRLA (Iron Range Labor Assembly), Education MN Retired, REAM, Retiree Council of AFL-CIO.  He also created 2 retired organizations to exist alongside the active counterparts:  IRSU-R (Iron Range Service Unit Retired) and IRLA-R (Iron Range Labor Assembly Retired)
Joe was a member of the Blessed Sacrament Catholic Church in Hibbing, the American Legion, Order of the Moose, Knights of Columbus, and a longtime member of the Elks Club.
Joe is survived by his partner of 30 years-Linda Gustafson, children, Glen (Kris) Moren, Wayne (Val) Moren, Bruce (Patty) Moren, Kenneth Moren, Julie (Scott) Danielson, Kari (Adam Tronnes) Olson, sister, Margie Rozinka, half-brother, Bill (Melodee) Moren, the mother of his children Jean Moren, 14 grandchildren, 9 great grandchildren, Linda's extended family, nieces, nephews, and cousins.  Joe was proceeded in death by his parents, sister, Carol Indihar, infant daughter, Myrna Lee and his grandson, David Moren.
Rest In Peace, Joe.