2013 Retired Fall Conference
By Bobbie Margo
The 2013 Education Minnesota Fall Conference was held September 9-11 at Mystic Lake Casino and Hotel in Prior Lake. Forty+ individuals attended the conference in anticipation of good sessions, good entertainment, good food , and a great time with fellow retirees.  This year's fall conference did not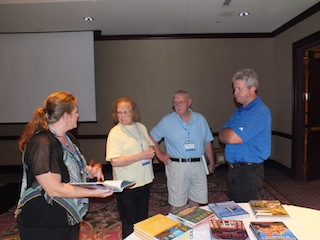 disappoint. The conference opened late Monday afternoon with a sit down dinner and a presentation by Doug Ohman. Ohman shared his latest travels with "Journey Down the Mississippi Part 3." This most recent adventure started in St. Paul and eventually went all the way to the Iowa border. Ohman has presented Parts 1 & 2 at past retired Fall Conferences, so it was nice to blend everything together with Part 3.
Tuesday morning opened with a "Welcome" from President Walt Munsterman. (again there were 2 persons attending who were newly retired!)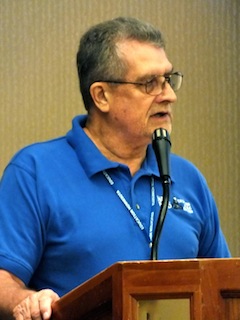 Our first session was  a presentation by Kent Schutte on Wills/Trusts/Health Care Directives/Power of Attorney. Schutte covered things that everyone is interested in because it deals with money! But because the law is constantly changing, Schuttee's prudent advice was-if significant estate taxes are involved, an estate tax attorney should be consulted. Of note: as part of the Education Minnesota attorney referral program, Education Minnesoat Retired members are entitled to 1/2 hour of free attorney advice.
Joel Decker of Educators Lifetime Solutions continued in this session and spoke to the group about long term care insurance-with a reminder that it is never too late for insurance.
Jodee Buhr presented the next session with a "Legislative Wrap-Up." Buhr told the group that
the past legislative session was the best since she has started working for Education MN as a lobbyist. The political environment was positive, there was compassion and awareness to do good things legislatively, and education had the support of the House, the Senate, and the Governor! The Education Omnibus Bill was 485 million with 235 million put on the formula. There were tax levy changes specifically location equity changes. An effort was made to reinstitute the general education levy. (this was taken away during Ventura) The next session starts February 25, 2014, and it is sort of being labeled as an "unsession" – as in trying to get rid of things that aren't good, i.e. unfunded mandates. The Senate plan is to go in and make a quick exit in April. (sort of fast & furious-sounds like a Vin Diesel movie) The House will be very "political" as all members are up for re-election. Also there is conversation again about a state-wide health insurance plan-specifically PIEP-Public Insurance Employees Plan.
The next session was a presentation by teacher/author Mike Resman. Resman retired from the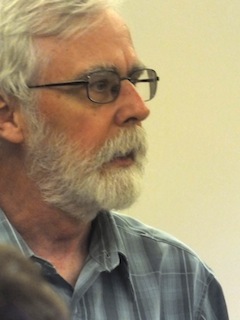 Rochester School District in 2007 after working as an Occupational Therapist for 25 years, and he is the author of a book called "Bad Blood & Economics." The book is an historical account of teacher strikes in MN. I found this presentation to be fascinating-maybe because I remember when PELRA came into being, and I remember when it became legal for teachers to strike. This book was reviewed very favorably in the November 2012 issue of our own ED-MN Retired Newsletter.
After a lovely lunch, I certainly was ready for a nap, but in due time. The next session was on "Health & Wellness" with Paula Woischke. Woischke has been doing senior fitness classes for 12 years and recently received her Masters Degree in Gerontology. "Thera bands" were distributed, and Woischke got us up, moving, stretching, and doing strength exercises for an HOUR-to music-it was good!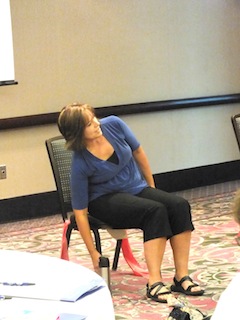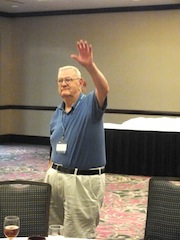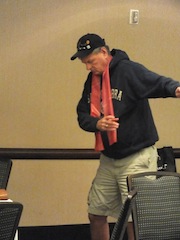 Shelley MacDonald then presented an excellent session on a"Member Benefits Overview." "Union Education" has become more necessary, and there is a 1/2 page ad in every issue of THE EDUCATOR under the title "Members Want to Know."  There are now 7,100+ registrations in "PerksConnect," and the newest program offered through Member Benefits is a number of car buying opportunities with Walser.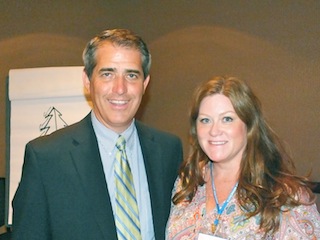 Boyd Huppert and Shelley McDonald
My long awaited nap became a reality later in the afternoon (bliss) during several hours of free time. The day ended with a social hour, dinner, and the evening speaker who was Boyd Huppert, KARE 11-Land of Ten Thousand Stories. Huppert brought several videos with him of actual stories that have been "on the air." During his presentation, Huppert stated numerous times how exciting it was for him to talk to teachers. He explained that he uses teaching/story board techniques when he formulates his stories, many of which are sent to him through emails. In describing Huppert's presentation, one word comes to mind-FANTASTIC!
Wednesday's sessions started with Education Minnesota Vice President Paul Mueller. Mueller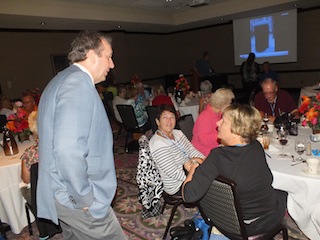 reminded us that every year 3,000+ teachers retire; out of that number ED MN Retired gets about 200+ members. Maintaining memberships in professional education organizations keeps one connected and informed and involved. We need to work harder at member recruitment.
The last session was TRA Executive Director Laurie Fiori Hacking. She had good news in that the TRA funds have rebounded steadily from the market downturn in 2008-09. But we are still in fragile territory. The TRA Board is concerned about the overall financial future and the
status of the Duluth and the St. Paul funds. Both funds have had infused money from the legislature, but that will be only for 2 years. Duluth poses a special problem in that the city population is declining, school age children are declining, and teacher employee numbers are dropping. But Duluth does want to be part of our TRA system and will work with us. St. Paul poses a much larger problem; they are in financial trouble, and they wish to remain by themselves. A consolidation study dealing with the Duluth/St. Paul funds is due to the legislature on January 6, 2014. Significant threats to the pension system in the form of antipension propaganda and scary rhetoric continue to remain. National/local taxpayer groups
attack pension benefits in their blogs and in newspaper editorials. If it's negative, it's news.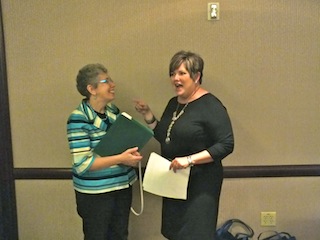 Laurie Hacking and President Denise Specht
Finally our special guest speaker of the day was the newly elected President of Education Minnesota, Denise Specht. Her presentation dealt with her vision for strong schools, strong communities, and a strong union. This vision included five talking points: 1) educator voice, 2) collaboration, 3) professional prestige, 4) social justice, and 5) a modern union. Specht elaborated on each of these five talking points with retirees being included in her message. She spoke of increasing ED MN Retired membership through a "continuous membership model." However support for such a program must be garnered from the active members of Education Minnesota. Specht is supportive, but wants to study such a model and then proceed with caution and with organization! (all ducks must be in a row)
A HUGE "thank-you" to the Education Minnesota Retired Program Committee for planning this year's wonderful conference; and a special "thank-you" to Joan Clark, Myrna Doran, Lois Wendt, Shelley MacDonald and Betty and Boy Toy. Thanks for the memories. See you next year!