By Bobbie Margo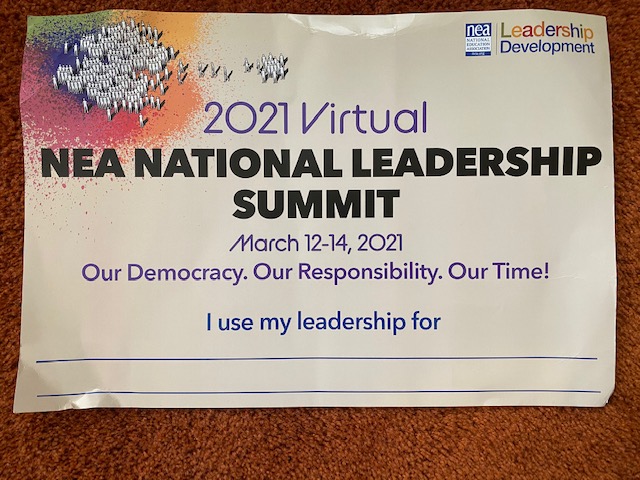 The Annual NEA Leadership Summit was Virtual this year. The in-person Summit/Aligned Conferences were supposed to be held in New Orleans. COVID prevented in-person conferences, but the New Orleans spirit permeated throughout. NEA combined the Higher ED Conference, March 12, the Leadership Summit, March 12-14 (mainly for active members) with the NEA Retired Conference, March 14-16. This year's theme was "Our Democracy, Our Responsibility, Our Time!" Our own ED MN President Denise Specht was part of the design planning team! Participants from ED MN Retired included: Joan Beaver, Julie Jagusch, Dan Larson, Diane Larson, Chuck Lyons, Bobbie Margo, Walt Munsterman, Judy Rohde, Jayne Schwalbach, Wes Tessman, and staff person Christine Thornborrow. Also this year, in an attempt to "lighten up" the virtual conference, a pre-selected "snack box" was mailed to each participant. However, I received my snack box a week before the Conference. So, by the time the actual conference started, I had eaten through all of my snacks!
NEA President Becky Pringle opened the Summit on the evening of March 12. The evening's keynote speaker was Nancy MacLean, Professor of History and Public Policy at Duke University. MacLean's main message was that WE is the most important word in the progressive vocabulary. Until we "unshackle" the power of the people, we cannot accomplish our ideals and our goals. We must make the alliances that we need to shape the future that we want.
Saturday, March 13 and Sunday, March 14 were filled with excellent breakout sessions and another keynote speaker-Dr. Andre Perry of the Brookings Institute which is based in Washington, DC. Of particular interest is that Perry had Becky Pringle as one of his teachers! How neat is that!! Perry's research has been focusing on YES-Youth Empowerment Struggle. His research stresses the racial inequality both in schools and in communities. There are individuals in our schools and in our communities whose skin color can be called fair-but who are not!
The 2021 Virtual NEA Leadership Summit adjourned on Sunday, March 14 at 11:00AM-and the 2021 Virtual NEA-Retired Conference was called immediately to order by President Sarah Borgman. Since this year's theme is "Our Democracy, Our Responsibility, Our Time!", Borgman stressed that on the first day of the retired conference we, as participants, must focus on DEMOCRACY. We have the right to life, liberty, and the pursuit of happiness-do not take it for granted-hold fast to our democracy! The remainder of the day was filled with breakout sessions. The evening's virtual program included music with the Kinfolk Brass Brand and Gumbo, Cocktails and Mocktails with Susie's Sunshine Kitchen!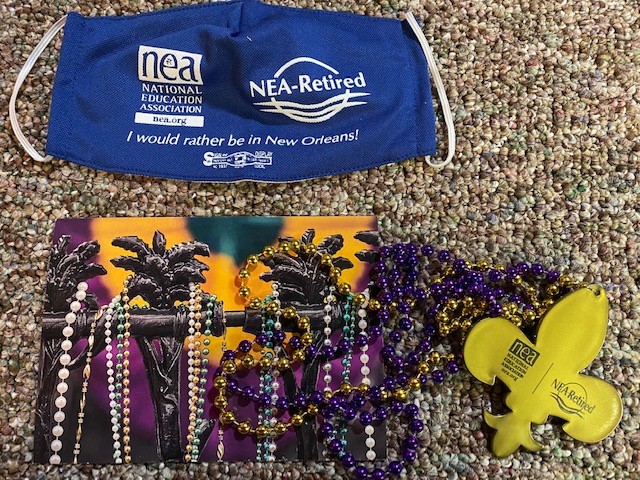 Monday, March 15 continued with more breakout sessions. Today we, as participants, were urged to focus on RESPONSIBILITY-to our families, our friends, our schools, our communities, ourselves. Also two breakout sessions are of particular note: "Let's Protect Public Education and Our Retirement Pensions/Benefits" and "Wisconsin MEME Farm" (memes are sharing messages through media). Both sessions provided retired members a venue to participate in professional learning, to network and to develop skills in order to enhance leadership capacity.
The final day of the Retired Conference, Tuesday March 16, provided several options. However, first participants were urged to focus on TIME-time to become involved, time to make a commitment, time to network with fellow retirees. Tuesday provided valuable PRESIDENTS' TRAINING-the focus being on Membership. Non-President participants attended breakout sessions. The closing session featured keynote speaker Earl Wiman. Wiman worked in the Tennessee public schools for 35 years as a kindergarten teacher, a principal, and a librarian. He served 6 years on the NEA Executive Committee and is presently the Executive Director of NEA-New Mexico. His message-retirees inspire him. We are visionary, strong and dedicated, and we will not be denied in our quest to reclaim public education!
Silent auction numbers totaled $32,718.00!!! Way to go RETIREES!!
In conclusion, the challenges in front of us demand our sharp focus and our highest commitment. As retirees we are still focused and still committed!