Submitted by Bobbie Margo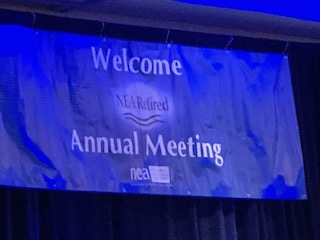 This year's 36th NEA Retired Annual Meeting was held from June 30-July 1, 2019 at the Hyatt Regency     Galleria in Houston, TX.  Houston is famous for the Astrodome (the first covered/domed football stadium) and also for the NASA astronaut training/flight complex.  Houston is the most populous city in the state of Texas and Texas is larger than any European country!      \                                                                                         
The meeting of 400+ attendees was called to order by President Sarah Borgman (IN).  Borgman's "President's Address" stressed that all of us need a purpose and a plan.  Without a plan, there can be no meaningful action.  With a plan, we can establish goals-communication happens-which then involves more people-hence more ideas.                                                                                                                                             
Business matters were conducted with much discussion centered around proposed new business items and around elections for several positions in the NEA-R Organization.  Judy Rohde was re-elected to a fifth term representing NEA-R on the NEA Resolutions Committee.  Bobbie Margo was re-elected to a position on the NEA-R Executive Council.  (way to go, ladies!!)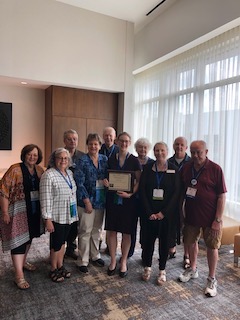 On July 1, we had two very important presentations:  Mary Kusler (Director of NEA's Center for Advocacy) and Alice O'Brien (NEA General Counsel).  Kusler reminded us that we have to be "all in" when it comes to politics; we can't wait for someone to save us.  NEA is the largest union in the country, and within this union NEA Retired needs to be everywhere!  Collective action works/elections matter.  Educators/ESP/Higher Ed members must be able to retire with dignity.  O'Brien stressed that Janus is not the end of "union bashing."  There are currently 90 cases against public sector unions-28 are against NEA directly.  A year post Janus, our opponents are not deterred.
On a more positive note, the Jack Kinnamon (Cat in the Hat) Scholarship Fund was able to award 4 scholarships the year of $2,500 each! (last year we awarded 3)  And one of the recipients this year is from Minneapolis!  NICE!!!
By the numbers:    
1)  NEA-R membership is 358,000+ (40,000 more than last year-we are the largest  growing category in NEA)
 2)  in 48 hours we raised $30,870.00(andcounting)  for PAC
3)  between the Summit Retired Conference this past March and the NEA-R Annual Meeting, we have raised $50,000.00+ for PAC.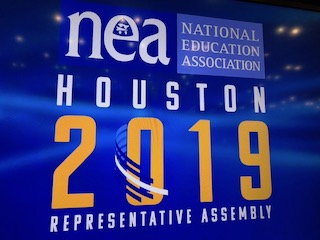 The NEA-R Annual Meeting adjourned on July 1.  We packed up all of our "stuff" and moved to the C. Baldwin Hotel by Hilton in downtown Houston.  This was a minimalist hotel, there wasn't even a clock in our room!!!
This was the 157th Annual Meeting and the 98th NEA Representative Assembly and was held from July 4-7, 2019.  President Lily Eskelsen Garcia welcomed the delegates with a keynote address.  She reminded us that Wisconsin's former Governor Scott Walker had to clean out his desk because a teacher is now Governor!  (Minnesota's Governor is a teacher also!)  Over 1,000 educators were elected to state and to national offices in this last round of elections.  NEA doesn't care if politicians don't like us; we care that they respect our power.  We have more members now than we did before Janus.  We are growing!!   We are strong!!
 The highlight of this year's RA was the appearance of 10 Democratic Presidential Candidates.  NEA President Garcia moderated one-on-one discussions with former VP Joe Biden, former HUD Secretary Julian Castro, NYC Mayor Bill de Blasio, Senator Kamala Harris, Washington State Governor Jay Inslee, Senator Amy Klobuchar, Representative Tim Ryan, former Representative Beto  O'Rourke, Senator Bernie Sanders, and Senator Elizabeth Warren.                                                                                                                                                    
The following days included speeches from the Friend of Education (Dolores McCracken, Posthumous Past President, PA), the 2019 Education Support Professional (Matthew Powell, Kentucky), 2019 Higher Educator (David Schneider, MI), and National Teacher of the Year (Rodney Robinson,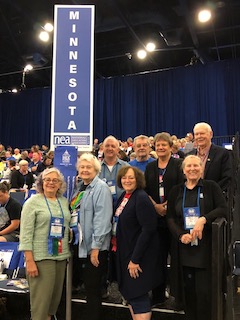 Virginia).                                   
In the order of elections and business:  2 individuals were elected to the NEA Exec Committee, 6 ESP individuals to the Board of Directors (Minnesota's own Ellen Olson was re-elected), 1 Higher Ed person to the Board of Directors, 1 Administrator at Large to the Board of Directors.  Discussion on the floor involved:  4 Constitutional Amendments, 4 By-Law Amendments, 7 Legislative Amendments, 9 Amendments to Resolutions, 3 Standing Rules, and 160 New Business Items!!! WOW!!                                                     
There were 6,166 registered delegates, the cost to implement the New Business Items will be $1,358,925.00+, the total money raised for PAC was $1,360,000.00+.  The 2020 Representative Assembly will be held on July 2-6 at the Georgia World Congress Center in Atlanta, Georgia.
On behalf of Julie Jagusch, Sharon Kjellberg, Diane Larson, John Lipke, Walt Munsterman, Judy Rohde, Wes Tessman, and myself, we sincerely thank YOU-the members of ED MN Retired for giving us the opportunity to represent our state and our retired organization.  We represented you with pride, with purpose, and with professionalism!