Submitted By Bobbie Margo
The Annual NEA Leadership Summit was held in Denver, CO March 15-17, 2019.  Denver is known as the "mile high city" and can provide a Rocky Mountain High in more ways than one.  The conference was held at the Colorado Convention Center with participants numbering 2,000+ from across the nation.  NEA combined the Leadership Summit (mainly for active members) with the NEA Retired Conference which was held March 17-18 at the Sheraton Denver Downtown.  This year's Summit theme was "Amplifying Our Voice:  Leading Boldly For Our Students, Our Professions, Our Union."  Education MN was represented by 60+ participants from the active ranks.  Participants (for both conferences) from ED MN Retired included, Joan Beaver, Julie Jagusch, Sharon Kjellberg, Bobbie Margo, Judy Rohde, Cathy Stringfield, Wes Tessman, and Lynette Wayne along with student members, Katie Lillis and Amanda Stegbauer.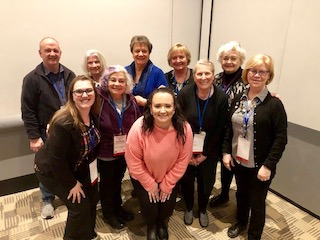 NEA President   Eskelsen Garcia opened the Summit Conference on the evening of Friday, March 15.  Garcia's main message dealt with Leadership. Leadership is difficult, but we can be inspired to turn ourselves, our schools, our communities into better and more vibrant entities. 
Saturday, March 16 and Sunday, March 17 were filled with excellent breakout sessions.  Of particular note was a session entitled, "The Power of Your Voice."  This session stressed becoming union involved in order to advocate for public education and students at the local, state and international levels.  In a post-Janus world, we need to protect and to defend our union and our rights.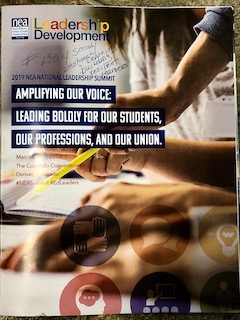 NEA Officers Becky Pringle and Princess Moss also spoke during plenary sessions.  The final keynote speaker on Sunday was Dr. Daniel Walker.  Walker is a filmmaker, scholar, social entrepreneur, and public speaker.  His message-we must continue to increase high school and college graduation rates of traditionally under-represented students.  The main Summit then concluded and retirees from all over the country shifted into "Conference Mode" for their Retired Conference.