By Bobbie Margo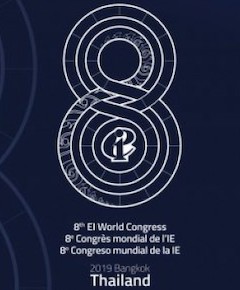 The 8th Education International World Congress was held in Bangkok, Thailand in the BITEC (Bangkok International Trade & Exhibition Center) from July 21-26, 2019.  Bangkok has a population of around 8 million and has the distinction of possibly being one of the hottest cities on earth.  English is taught as a compulsory subject in schools.  The city is known for ornate shrines (main religion is Buddhist) and vibrant street life.  In the 1800's Thailand was formerly named Siam-think Yul Brynner and the "King and I"!!!
                                                                                                                                                                                                                        Education International (E.I.) was founded in 1993 in Stockholm as an association of national teachers' unions and a merger of their international umbrella organizations-still in competition at the time.  In other words,  IFTU (International Federation of Teachers' Unions-AFT was a member) and WCOTP (World Confederation of Teaching Professionals-NEA was a member)-joined to form a more powerful organization.  E.I.'s World Congress is the supreme governing body of Education International, and is now held every four years in a different world location.   E.I.'s six regions include, Africa, Asia/Pacific, Europe, Latin America, North America/Caribbean, and Middle East/Arab countries.  Previous E.I. Congress locations have included:  Zimbabwe, Washington, D.C., Thailand, Brazil, Germany, South Africa, and Canada.  E.I. is a federation of 396 associations and unions in 191 countries and territories.  E.I. represents some 32.5 million educators and support professionals in education institutions Pre-K to University.
                                                                                                                                                                                                      At this 8th Congress, NEA was represented by 50 official delegates and 62 observers and accompanying persons. 
 To bring this closer to home, 2 ED MN Retired members attended this year's Congress-Judy Rohde and Bobbie Margo (we funded ourselves).  AFT also had a delegation which included our own Denise Specht, and Marty Fridgen as an accompanying person.  This year's 8th Congress brought together 1300+participants from unions in 170 countries.
                                                                                                                                                                                                 In the order of business, the Congress program included plenary general sessions, caucuses, breakout sessions, social events, receptions.  The Congress as a body dealt with resolutions, amendments and several emergency, political resolutions.  The official Congress languages were English, Spanish, French, and German.  Translation equipment was provided. 
This year's recipient of the "Albert Shanker Education Award" was Curtis Riep from Uganda.  The "Mary Hatwood Futrell Human and Trade Union Rights Award" was presented to Jalila Al Salman from Baharain.  Elections were held for several Executive Board Positions, and NEA President Lily Eskelsen Garcia was re-elected as E.I.'s Vice-President for North America.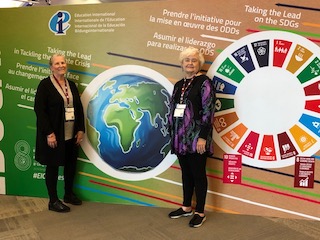 On behalf of Judy Rohde and myself, we encourage you to get your passport papers in order and to start saving money now.  Check out E.I.'s website-www.ei-ie.org.  To attend an E.I. Congress is to experience the true meaning of unionism and solidarity worldwide!  The 9th E.I. World Congress will be held in South America; the next four years will be here before you know it!