The Annual NEA Leadership Summit was held in Chicago, IL  March 16-18, 2018.  Chicago is known as being the "Windy City," along with seriously celebrating St. Patrick's Day by dyeing the Chicago River "green for the day!"  The Conference was held at the Hyatt Regency Chicago.  Conference participants numbered 2,000+ educators from across the nation.  NEA combined the Leadership Summit (mainly for active members) with the NEA Retired Organizing Conference which was held March 18-19 and at the same hotel.  Retired participants who attended both conferences were given a combined registration rate.  This year's Summit theme was "Uniting Our Members and the Nation-Growth and Strength."  Education MN was represented by 60+ participants from the active ranks, and our own ED MN President Denise Specht was part of the NEA Design Planning Team.  Participants from ED MN Retired included, Joan Beaver, Myrna Doran, Julie Jagusch, Sharon Kjellberg, Bobbie Margo, Adele/Walt Munsterman, Judy Rohde, and staff person Christine Thornborrow.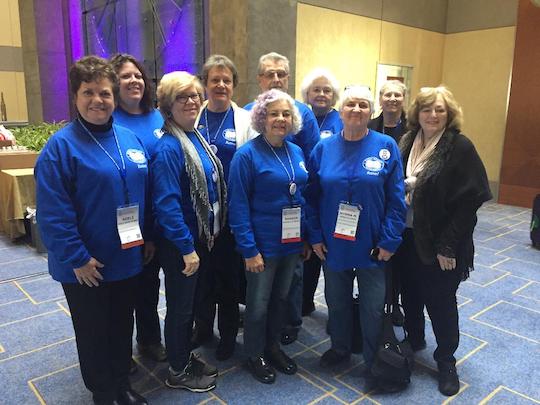 NEA President Lily Eskelsen Garcia opened the Conference on the evening of March 16.  Garcia's main message-political action within the classroom will make a positive difference outside of the classroom.  The evening's keynote speaker was Eric Liu.  Liu is an author, educator, and civic entrepreneur.  He also served as a White House speechwriter for President Bill Clinton and later as Clinton's Deputy Domestic Policy Advisor.  Liu's message-we teach power; power is one of the most important products of our public schools.  P + CH = CI  Power + Character = Citizenship!
Saturday, March 17 and Sunday March 18 were filled with excellent breakout sessions and another Keynote Speaker.  Of particular note was a session entitled "The Fight for Power-Unions VS the 1%."  Unions have taught us the power of collective thinking, collective bargaining, and of collective voting.  As members of NEA (and its nearly 3 million members) we need to continue to organize our power and our advocacy.  We need to protect and to defend our students.  Otherwise there will be no union.  The final Keynote Speaker was Bryonn Bain.  Wrongfully imprisoned while studying at Harvard Law, Bain sued the NYPD and interviewed with Mike Wallace on "60 Minutes."  Presently Bain is co-supervising UCLA's International Human Rights Law Clinic.  His message-we have the largest prison expenditures in human history, why can't we spend the same amount of money on education!
The challenges in front of us demand our sharp focus and our highest commitment.  As retirees, we are still focused and still committed!
Submitted by Bobbie Margo