by Bobbie Margo
This year's NEA Retired Organizing Conference was held at the Renaissance Hotel in Dallas from March 21-23, 2017.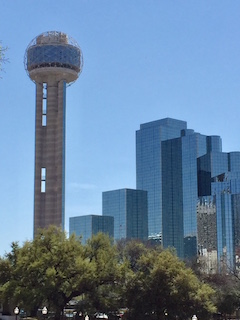 Dallas is famous for J.R. Ewing and the Dallas Cowboy Cheerleaders.  Myrna Doran, Julie Jagusch, Larry Koenck, Bobbie Margo, Walt Munsterman, and Judy Rohde represented ED MN Retired along with staff person Christine Thornborrow.  Attendees numbered 240+ with participants representing 39 state retired organizations throughout the country.
The conference began on the evening of Tuesday, March 21.  Keynote speaker was Mel House.  House is a social justice warrior, along with being an educator.  Her belief is that we must own our senior citizen status!  As seniors we are long-established with history and are an invaluable piece of the NEA puzzle.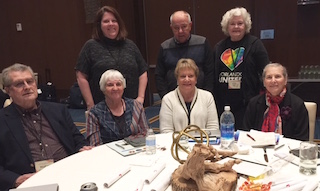 Wednesday's activities included informal sessions and breakout workshops.  The day's keynote speaker was Judy Bryant.  Bryant is one of us-having taught for 32 years and is now retired.  Her message is simple-we must protect our pensions!!  Pensions not only matter to retired educators but also to active educators.  We must remain vigilant to short-sighted political attacks.  Union history demonstrating solidarity power must be kept on track.
The conference concluded on Thursday, March 23.  Al Campos NEA Federal Lobbyist provided a legislative update.  Campos stated that NEA strongly opposes the Neil Gorsuch nomination to the U.S. Supreme Court.  Sadly, as of this writing, Gorsuch has garnered the necessary votes, and he is now a United States Supreme Court Justice.  The Affordable Care Act continues to be attacked.  If a revision is passed, 24 million people could possibly lose their health care coverage.  Such an uneven revision would be like "putting lipstick on a pig!"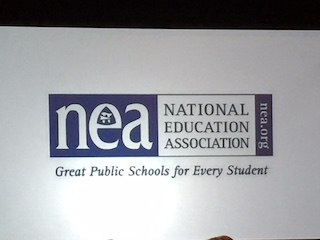 The closing keynote speaker was NEA Vice-President Becky Pringle.  Pringle provided an overview of how to increase awareness of systemic racism in our education settings.  Final activities included fund raising for the NEA Fund for Children and Public Education and the Jack Kinnamon (Cat in the Hat) Scholarship Fund.  Plans for the 2018 NEA Retired Organizing Conference will be announced in the coming months.  The 2017 Conference provided national speakers, skill development and knowledge as well as opportunities to network with peers-priceless!!