The NEA National Leadership Summit
By Bobbie Margo
 
The annual NEA Leadership Summit was held in Dallas, TX – February 26-28, 2016.  Dallas is known for J.R. Ewing, the "grassy knoll"/ Book Depository Building, and the Dallas Cowboy Cheerleaders.  The conference was held at the Hilton Anatole Hotel-an immense structure housing over 1,600.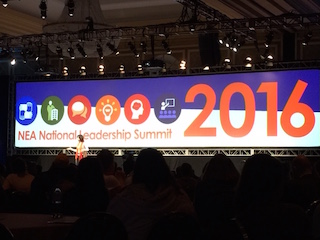 The conference participants numbered greater than the previous number.  
This was a conference mainly for "active/ currently employed" NEA members.  Judy Rohde and I decided to attend (our time/our dime) because such conferences are always empowering and inspiring. 
The theme of this year's conference was "Unite, Inspire, Lead-Empowering Educators for Success."  Education Minnesota was represented by 47 participants from the active ranks, and our own ED MN President Denise Specht was part of the NEA Summit Design Planning Team.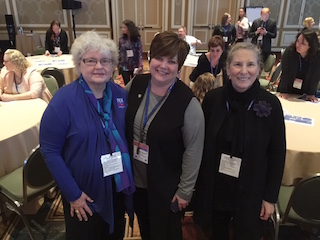 NEA President Lily Eskelsen Garcia opened the conference on the evening of February 26.  Eskelsen reminded the participants that each one of us has to believe in ourselves before we ask others to believe in us.  We have to unite our members-unite our union throughout the nation-we have to learn how to use our power in numbers and the power of our collective voice to our advantage.
The evening's keynote speaker was Erik Wahl.  Wahl is an internationally recognized artist and best selling author and entrepreneur.  Wahl reminded us that successful student education revolves around hopes and dreams.  Martin Luther King had a dream-not a standardized plan.  We must not be afraid to fail; failure is the opportunity to auto correct.  As educators we must be the reason that a child finds Mother Teresa more fascinating than Miley Cyrus.
Albeit small, NEA Retired did have a presence.  NEA Retired Vice-President John Jensen presented a session on protecting our pensions.  Jensen's session dealt with scary Laura and John Arnold.  John Arnold is a billionaire (courtesy of Enron) and has made it his life's mission to destroy defined benefit pension plans.  Bottom line-we must stay educated, be alert-take an active interest in any type of attack on our MN TRA pension.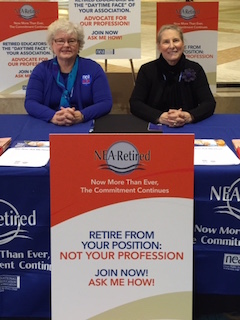 The final keynote speaker on Sunday, February 28 was Bertice Berry.  Berry combined her skills as a sociologist and as a researcher with her ability to make audiences think and laugh at the same time.  Her message was twofold: 1) Critical thinking doesn't work with only one thought-use the filter in your brain to erase the negative and to make room for new thoughts, 2) Try above all to keep calm and to face your fears-we as educators are on the front lines; we can turn our fears into initiatives-we need to commit, to act, to lead.
From Friedrichs (agency fee case being heard at the U.S. Supreme Court) to Election 2016 to ESSA (Elementary/Secondary School Act-took the place of No Child Left Behind and is much better) the challenges and the opportunities in front of us as retirees demand our sharp focus and our highest commitment.  My wish is that next year I could find the time and the dime for all of you to attend the NEA 2017 National Leadership Summit.