Check out the pictures of the Annual Meeting in the Photo Album under News!
                                                           2016 Retired Annual Meeting
                                                                        By Bobbie Margo
The 2016 ED MN Retired Annual Meeting was held on Friday, April 29 at the Doubletree Hilton Hotel in Bloomington.  There was a great breakfast provided and an equally great "Welcome" from President Larry Koenck to the 50+ attendees.
J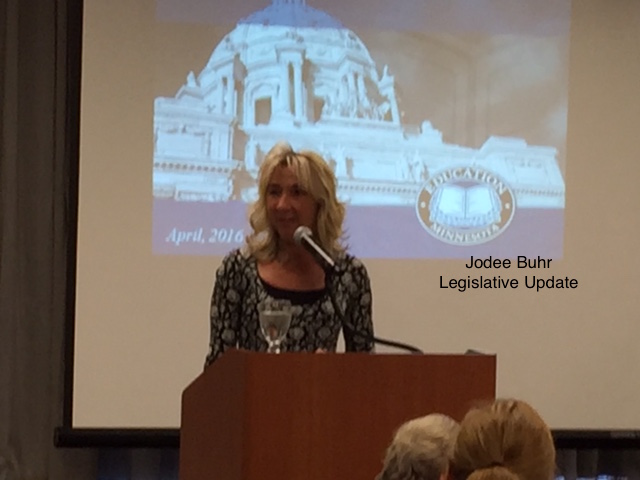 odee Buhr presented an update on the 2016 Legislative Session.  All legislators are up for re-election this year.  At the time of this writing there is a $900 million surplus.  Buhr stressed that the time is now to do something right for our children and for public education.
Next to speak was special guest Lt. Governor Tina Smith.  One of Smith's goals is to fix the teacher shortage in MN.  Her belief is that progress is an action word-not a sit around and talk word.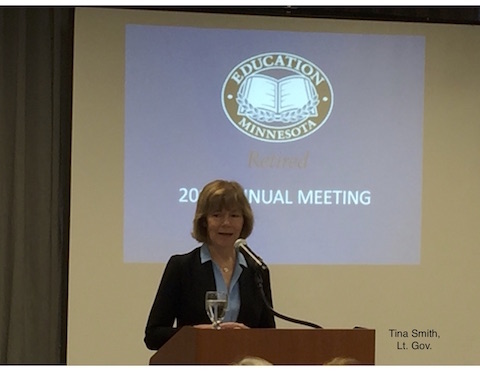 State MN Economist Laura Kalambokidis spoke on Minnesota's economic outlook.  MN is weathering the past economic slowdown reasonably well-it's very helpful that we have a diverse economy.  Minnesota has recovered jobs 8 months ahead of other states.
ED MN Officers President Denise Specht, V-P Paul Mueller, Sec/Treasurer Rodney Rowe, and Executive Director Sara Gjerdrum spoke of the many daunting challenges that ED MN faces.  Our enemies want us distracted; it's all about union bashing/total destruction of unions.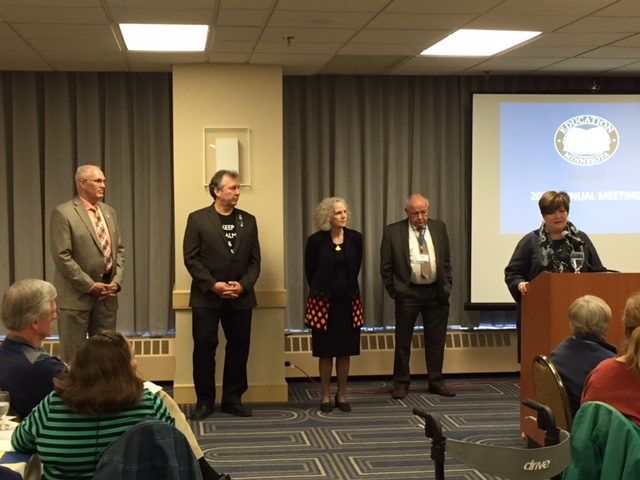 Lunch was delicious and was followed by the Annual Business Meeting.  The agenda and last year's meeting minutes were approved.  The Budget, Standing Committee Reports and the President's Report were printed and part of our Annual Meeting packet.
The final 2 presentations were the TRA presentation by Laurie Fiori Hacking and the ED MN ESI report by Christine Thornborrow.  Laurie Hacking stressed that retirees are living longer. Consequently, TRA is recommending to the legislature to change the interest rate assumption.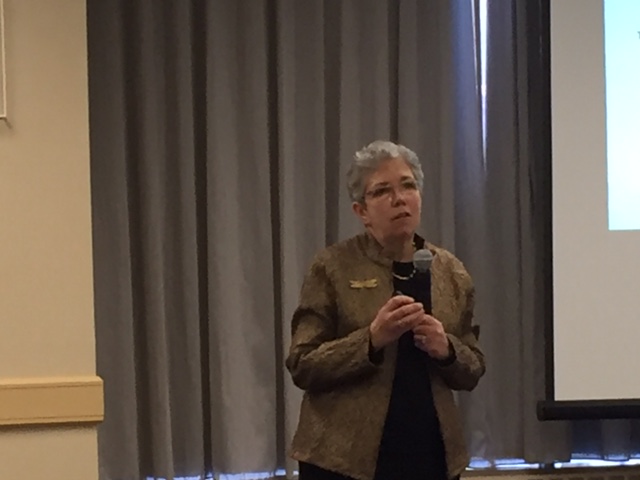 Thornborrow also spoke about Lifesprk.  An expert in home care, Lifesprk has been a partner with ED MN ESI for a little over a year, offering free senior care navigation services, additional care coordination and in-home caregiving services as needed.
The day ended with drawings for door prizes.  On the horizon is the 2016 ED MN-Retired Fall Conference, September 12-14 at Ruttger's Bay Lake Lodge in Deerwood.  Mark your calendars now.  Prepare for some serious retiree bonding, informative sessions, and great food!  Plan to attend.  Information will be forthcoming in the newsletter.  It will be time well spent.