NEA Retired Organizing Conference
               By Bobbie Margo
This year's NEA Retired Organizing Conference was held at the Sheraton Atlanta from March 24-26, 2015. Atlanta is in the state of Georgia and is home to Delta Airlines, Coca Cola, and the Ebenezer Baptist Church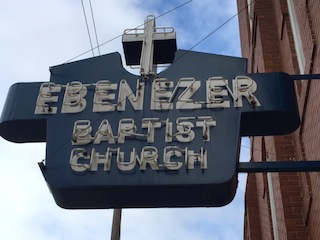 where Martin Luther King Jr. preached.
Four Education Minnesota Retired members (and Paul Mueller) attended this year's conference: Julie Jagusch, Larry Koenck, Bobbie Margo, and Judy Rohde; we were part of 275+ attendees.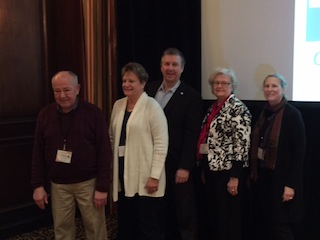 Also in attendance was Chelsea Herrig, the National NEA Student President (she's from MN!) The pre-conference was during the day on March 24 and was targeted for state retired Presidents and staff only. The Conference officially started on Tuesday (24th) evening with a "Welcome" from NEA-Retired President Tom Curran. Additional greetings were conveyed by Sid Champman, President of the Georgia Association of Educators and Karen Solheim, President of GAE-Retired. Keynote speaker of the evening was NEA Executive Committee member Earl Wiman. Wiman stated that NEA Retired members have become the daytime face of NEA. Once again NEA Retired is the fastest growing segment of NEA. (300,000+ and counting) Earl stressed 3 things for participants to do when each one of us returns home: 1) create a disturbance so that people will listen to our message, 2) one doesn't have to talk all of the time to make a point, 3) we can no longer allow the children who need the most-to actually have the least.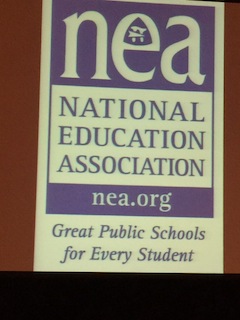 Wednesday, March 25th commenced with greetings from Princess Moss, NEA Secretary/Treasurer. Moss indicated that it is important for retirees to always be a part of a budget conversation. 2015-2016 is a modified budget year; NEA is "staying the course," no dues increase at this time. We need to continue to fight the mindset that everyone who drives by a school thinks that his/her input is the most important piece of the puzzle to education reform. The keynote speaker for Wednesday was Amy Whitcomb-Slemmer. Ms Whitcomb Slemmer is the Executive Director of Health Care for the Commonwealth of Massachusetts. She oversees a $4 million budget with the mission: to provide affordable health care. This affordable health care act actually originated in Massachusetts and is 5 years out in the implementation. Problems still exist, but to date, 96% of people in Massachusetts have health care coverage and 99% of children have affordable coverage. Massachusetts is also 3 years ahead in the health care payment reform-with costs being kept in check. Health, hunger, and homelessness are all intertwined. Savings in health care provide money to be spent elsewhere-i.e. education/transportation. Breakout sessions offered 15 choices including "Strategic Investing in Retirement" and "50 Shades of Gray (Haired) Membership Recruiting." At lunch we celebrated the 50th Anniversary of Medicare and the 80th Anniversary of Social Security. These 2 laws have forever changed the face of American society.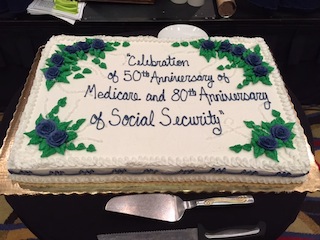 Sessions on Thursday, March 26th included Al Campos, Federal Lobbyist for NEA. Campos informed us that "today" (the 26th) was "Voterama." Already 300+ budget amendments had been filed, and the process would continue on and on until all the Senators are satisfied. Then a final vote will be taken on the budget, including all amendments. Keynote speaker on Thursday was Laura Feldman, Grassroots Manager, National Committee to Preserve Social Security and Medicare. Feldman was a teacher for 17 years, and then has been a grassroots organizer for the past 25 years. Her message: Politics is everywhere! Politicians are like diapers, "they need to be changed regularly." Beware of the phrase, "If elected, I promise to…" Social Security is a social insurance program; a safety net that keeps over 6 million people above the poverty line. Social security has a $2.7 trillion surplus; we should and need to be talking about how do we boost social security, not reduce it.
Concluding activities on Thursday, March 26: so far retirees have contributed $12,702.00 to the NEA Fund for Children and Public Education, (way to go retirees!) the Jack Kinnamon Scholarship Fund (Cat in the Hat) raised $2,898.00, The Conference ended with the announcement that the 2016 NEA-R Organizing Conference is to be held in San Diego March 22-24, mark your calendars now!